Intention and Blessing
This website has been created from a space of Love and Abundance, in synch with, and in the flow of, Universal Intent. It serves you by:
Helping you learn about therapeutic-grade essential oils and other Young Living products, brought to us through the vision and knowledge of Young Living founder, D. Gary Young
Connecting you with a community of people committed to improving and sustaining health naturally.
Helping you share Young Living products with others.
May you find this website to be a useful stepping stone on your path of personal growth. May you transcend all obstacles that keep you from reaching your highest potential.
Young Living Essential Oils: December 2013 Promotion


From the 1st through the 31st, when you place a $190 PV order, you will receive free 15ml bottles of Christmas Spirit and Thieves. That's a retail value of $69.09. With a $250 PV purchase, you will also receive a transferable $20 enrollment coupon which you can use to help a newly enrolled member offset the cost of a Starter Kit!!! With a $300 PV purchase, you will also receive YL's weight management product, Slique Slim Caps (total retail value = $197.96).
Christmas Spirit: This favorite blend combines the festive scents of Cinnamon Bark, Spruce, and Orange for an aromatic experience that is reassuring, purifying, joyful, and nostalgic. Diffuse, add a few drops onto firewood prior to burning, or drop onto cotton balls and distribute throughout your home.
Thieves: One of Young Living's top essential oils, Thieves combines Clove, Lemon, Cinnamon Bark, Eucalyptus, and Rosemary essential oils for a blend that not only smells like warming winter spices but can also support your immunity when taken internally* and lift your spirits. Diffuse for 15 minutes every 3-4 hours, apply undiluted to the soles of feet or drop onto cotton balls and place on air vents.
$20 Enrollment Coupon: This transferrable enrollment coupon is an ideal tool for sharing Young Living and bringing new energy to your organization. Look for a discount code on your qualifying 250 PV order invoice, which you may then give to an enrolling distributor to help offset the cost of a Starter Kit. To redeem the code, the enrolling distributor must sign up online with one of our new, exciting enrollment kits and enter the coupon code upon checkout, allowing him or her to join for as little as $20! This unique benefit makes it more enticing than ever to join Young Living!
Slique Slim Caps: An innovative tool to help you achieve your New Year's weight-management resolutions, Slique Slim Caps are formulated to help you feel full and cut down on overindulgence while supporting metabolic activity. A unique combination of dietary fibers, essential oils, and other specialized ingredients, these capsules can be taken with cold water 45 minutes before a large meal to help you moderate your caloric intake.
Young Living Essential Oils: Holiday Catalog 2013

Young Living Essential Oils offers the best in natural products that support our health and well-being. You are invited to enjoy this special preview of the 2013 Holiday Catalog.
Click Here
or on the picture above to peruse the catalog.
Young Living Products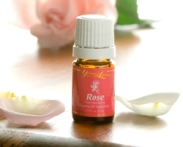 Young Living Essential Oils are life-enhancing gifts from the plant kingdom, revered for centuries for their restorative properties to body, mind, and spirit. They are the foundation for every other product we offer. They are available as "single" oils or blended in unique formulas.
And remember, the Young Living Essential Oil Product Line includes nutritional supplements and personal care items.

BEGIN WITH INTENTION: Intent is a force that exists in the universe. When sorcerers (those who live of the Source) beckon intent, it comes to them and sets up the path for attainment, which means that sorcerers always accomplish what they set out to do.
— Carlos Castaneda
YOUNG LIVING MISSION STATEMENT: We honor our stewardship to champion nature's living energy—essential oils—by fostering a community of healing and discovery while inspiring individuals to wellness, purpose, and abundance.
DECEMBER AFFIRMATION: This is a month to steep ourselves in gratitude. Grateful thoughts attract more to be grateful about. Thankful, appreciative words bring smiles to all those I meet. My gift to the world, this last month of the year, is my own inner peace, love, and joy."
THOUGHT OF THE MONTH: "This is perfect. That is perfect. From the perfect springs the perfect. If the perfect is taken from the perfect, the perfect remains. Om. Peace. Peace. Peace."


Remember to spread Peace and Love...
Be Consistent and Aim High!!!
Let people everywhere be happy. Let everyone be free of disease. Let everyone see good everywhere.
May we all see God in each other... Peace!