Book of the Month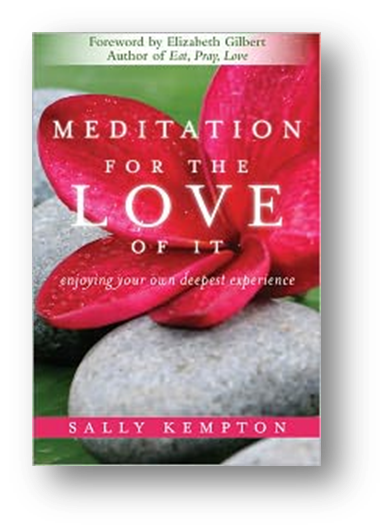 Drawing on her 40 years as a teacher and a fellow meditator, Sally teaches us how we can connect to our inner longings and creative "shakti" energy to allow the transformative gifts and blessings of meditation to unfold. With playfulness and devotion "two key attitudes in sustaining a daily practice" she shares indispensable guidance for this voyage of self-discovery, including: How to tune in to your own "meditation channel", a bandwidth of tranquility, energy, and joy; - Why you don't need a quiet mind to meditate; - How the force known as Kundalini can fuel your practice; - Connecting to your ever-present Inner Beloved to let go of conditioned ideas about yourself and make space for the True Self to come forth; - Ripening your practice beyond technique into the "sweet mysterious expanse of spontaneous meditation"; - More than 20 practices for bringing the peace and insight of meditation into your daily life. "Remember: what you seek in meditation is your own Beloved, your own inner intelligence, your own Awareness, and your own Truth," teaches Sally. Meditation for the Love of It points us back to our own intimate heart of hearts, our own deepest experience, and the bliss of existence itself.
Sally Kempton is known both for her ability to lead students into deep states of meditation, and for her gift of making yogic wisdom applicable to daily life. She has spent over 40 years practicing, studying, and teaching meditation and spiritual philosophy. A former swami, or monk, she lived and studied for many years with enlightened Indian masters, and received training in the Kashmir Shaivism tradition. She writes "Wisdom," a regular column for Yoga Journal, and teaches workshops and retreats in the United States and Europe.
Meditation has become an integral part of my life. It is paramount in helping me let go of resistance, and align with my higher Self, the creative energy of the universe. I have taken meditation classes and workshops with Sally. She is an amazing individual, a very high and special being, who teaches meditation like no other. Meditation For the Love of It makes learning about meditation easy, accessable, and fun. Whatever your level of meditation practice, from beginner to long time pracititioner, you will find this book to be an excellent read.
To purchase, visit